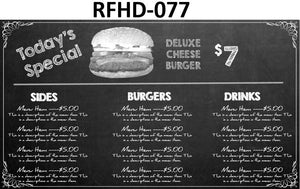 This MenuPoint template is for use with Microsoft PowerPoint. Embedded text is fully editable, the pictures can be moved, deleted or changed and the background color can be adjusted or changed. Simply open the file in PowerPoint and edit as you wish.

MenuPoint templates are formatted to a size that will output "1080P" HD quality picture files that you can use on any HD TV or monitor. (1080P is a screen resolution of 1920 x 1080 pixels which is a normal HD TV format.)

When you are happy with your edit, save the file as a JPG picture file. Then, copy the picture file to a USB memory stick or "thumb drive" and upload to your media player or monitor.

Download this professionally designed menu template today and start managing your menu the way you want!